The Best Places To Live In Williamson County, TN
Posted by Ben Laskey on Tuesday, June 1, 2021 at 2:58 AM
By Ben Laskey / June 1, 2021
Comment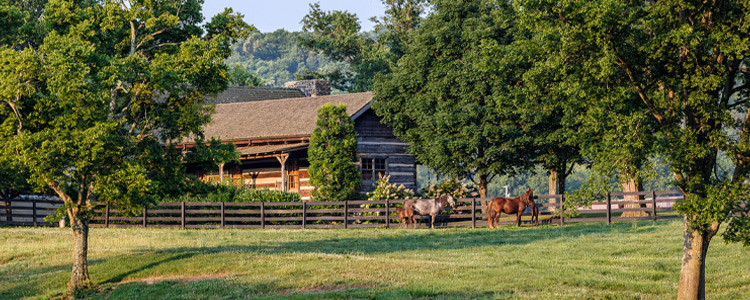 Williamson County is one of the most beautiful and exciting counties to live in the state; located just south of Nashville Tennessee, it is one of the fastest-growing communities in this country with 14.6% growth within the last 5 years (Wikipedia) as many families, young adults and businesses look to flourish here within Williamson County. Full of small town charm and big city innovation, Williamson county has so much to offer for so many unique reasons; as fourth in the nation for job growth as of 2012, it offers room for large businesses to flourish including Nissan America, Mars, Verizon Wireless located in Franklin the county seat. Alongside the neighboring city of, Brentwood for major corporations as well as a major opportune spot for small business owners and entrepreneurs.
View All Homes For Sale in Williamson County, TN >>>
Booming Businesses
Many businesses are confident in Williamson County impart from its proximity to the Nashville International Airport, alongside the business-friendly atmosphere and exceptional quality of life remains one of the wealthiest, counties to live in the state. With education constantly ranking top within the state and nation, it is easy to see why so many are attracted to this marvelous county.
Nashville International Airport; 26 min (24.2 mi) via I-65 N
10 major company's within Williamson County include:
Williamson County Education
Brentwood Library being ranked in the top ten of Children's Libraries, many families are motivated to live and thrive here as an uplifting 94.5% of the adult population has a high school diploma or more within the state. With 48 schools in the district including; 28 elementary schools, 12 middle schools and 10 high schools, it is no wonder why so many people gravitate towards such a remarkable place. More than 2100 acres of parks and greenways pave the way across Williamson County and make up for a very healthy and active community, taking advantage of the many modern sports facilities, recreational centers and parks.
There is one main school district that serves the Williamson county community; Williamson County Schools (WCS) which makes up over 40,000 students. Including three new schools that opened as scheduled for the 2018–2019 school year.
WCS 28 Elementary schools that serve Williamson County include:
Allendale Elementary (2010)
Bethesda Elementary (1936)
Chapman's Retreat Elementary (2003)
Clovercroft Elementary (2011)
College Grove Elementary (1936)
Creekside Elementary (2019)
Crockett Elementary (1990)
Edmondson Elementary (1995)
Fairview Elementary (1962)
Grassland Elementary (1873)
Heritage Elementary (1999)
Hillsboro Elementary and Middle (1905)
Hunters Bend Elementary (1995)
Jordan Elementary (2018)
Kenrose Elementary (1999)
Lipscomb Elementary (1866)
Longview Elementary (2007)
Mill Creek Elementary (2016)
Nolensville Elementary (1937)
Oak View Elementary (1993)
Pearre Creek Elementary (2010)
Scales Elementary (1977)
Sunset Elementary (2005)
Thompson's Station Elementary (2018)
Trinity Elementary (1883)
Walnut Grove Elementary (1990)
Westwood Elementary (2000)
Winstead Elementary (2002)
WCS 12 Middle schools that serve Williamson County include:
Brentwood Middle (1972)
Fairview Middle (1981)
Fred J. Page Middle (1981)
Grassland Middle (1986)
Heritage Middle (2001)
Hillsboro Elementary and Middle (1905)
Legacy Middle (2020)
Mill Creek Middle (2016)
Spring Station Middle (2010)
Sunset Middle (2006)
Thompson's Station Middle (2018)
Woodland Middle (1994)
WCS 10 High schools that serve Williamson County include:
What's Nearby
Best known for soccer, Williamson County makes up 27 soccer fields with as many as 2,000 children playing on one given day and hosts many Summer concerts at the exceptional Crockett Park. With professional sports and wonderous music scenes nearby, Williamson County shines hosting its own festival theatres, galleries and live music venues such as at the historic Franklin Theater.
Downtown in the eye of Franklin, you can find boast amounts of, culture, community, upbeat vibes and historical preservation. Remaining vibrant and outstanding with both a commercial and entertainment district, Williamson County provides such radiant city style and country charm, mixed with savvy business endeavors for, entrepreneurs, families and everyday living for anyone venturing on through or settling in for a lifetime.
Parks and Trails
To name just a few, are the many parks and trail options available within Williamson County:
Bethesda Park
Brentwood Civitan Park
Fairview Park
Gregory Park Soccer Field
Fairview Ball Park
Bending Chestnut Park
College Grove Ball Park
Osburn Park Soccer Complex
Grassland Park
Timberland Park
Heritage Park Wilkins
Branch Mountain Bike Park
Williamson County Neighboring Cities
Franklin, TN
With housing options ranging anywhere from, horse and lifestyle communities to older homes with acreage, there is an option for everyone. House prices remaining slightly less expensive than the neighboring city of Brentwood, allows those to provide their families or single living with beautiful and comfortable living options all while sticking close to a thriving, yet peaceful environment.
Homes starting at approximately $175,000.00 up towards approximately $15,450,000.00, allows a wide range of options and incomes for all families alike. This peaceful city which offers both countryside and a strong downtown core provides serene atmospheres, along with eye-catching antique shops, galleries, and restored Victorian buildings.
What is there to do in downtown Franklin TN, you ask? To include just a few options:
Lotz House Museum
Carnton
Downtown Franklin
Carter House
Leiper's Fork Distillery
Leiper's Fork
McGavock Confederate Cemetery
Natchez Trace Parkway Bridge
Cool Springs of Franklin TN
In the Cool Springs of Franklin, just north of the downtown square and south of Brentwood, is a business, dining and shopping hub where options such as the Coolsprings Galleria Mall, Target and Costco along with local boutiques, unique dining options and more, can be found all in one amazing spot leaving the Cool Springs extremely convenient and accessible.
View All Homes For Sale in Franklin, TN >>>
Williamson County Neighboring Cities
Nolensville, TN
Located South East of, Nashville this rustic farm and antique style small town offers its residents a rich rural feeling, yet is full of life offering many quality restaurants, schools and has been growing over the many years since its first European American settlers arrived, in 1797. A war veteran named William Nolen and his wife Sarah, along with their five children were passing through the area when their wagon wheel broke. William then took the time to search and learn of the land and its rich soil it offered and decided to settle with his family; the town was later named after William in his honor. Full of history much like most of Williamson county as a whole; Nolensville is only 27 minutes away and offers an opportune getaway for those looking to venture to neighboring cities or to settle down and build a life in.
Nolensville schools are well known and offer high-quality education, remaining under the WCS Williamson County School District. The schools which serve the city of Nolensville are listed as follows;
Nolensville Elementary School
Mill Creek Elementary School
Sunset Elementary School
Sunset Middle School
Mill Creek Middle School
Nolensville High School
Nolensville has numerous local and surrounding parks, an indoor recreation center, outdoor splash pads along with walking and hiking trails to explore. The peaceful area offers a strong country vibe and warm southern hospitality. Loaded with antique shops and farms this is the perfect central location to Franklin, Brentwood and downtown Nashville.
What's Nearby
To name a few places to visit in, Nolensville you will find the following:
Amish Country Market At The Feed Mill.
Belle Meade Plantation.
Nashville Zoo At Grassmere.
Radnor Lake State Park.
Cheekwood.
Arrington Vineyards.
Music City Bites & Sites.
High Tide Rides.
View All Homes For Sale in Nolensville, TN >>>
Williamson County Neighboring Cities
Brentwood, TN
Located further North, closer to the heart of downtown Nashville TN, versus Franklin, Brentwood offers various business opportunities for both large companies and independent entrepreneurs. Offering more land space for most of its property owners, due to later development from farming land over the years Brentwood has both flourished and remained as a traditional Southern look, yet also offers more modern architecture as you will see throughout its shopping centers.
With highly-rated schools in Brentwood, as it also remains under the WCS Williamson County School District, you can be confident in knowing your child(ren) will be able to excel and flourish in many educational opportunities.
The schools which serve Brentwood, within Williamson County include:
Elementary Schools
Crockett Elementary
Edmondson Elementary
Grassland Elementary
Jordan Elementary
Kenrose Elementary
Lipscomb Elementary
Scales Elementary
Sunset Elementary
Middle Schools
Brentwood Middle
Sunset Middle
Woodland Middle
Brentwood Academy (Private)
High schools
Brentwood High School
Ravenwood High School
Brentwood Academy (Private)
What's Nearby
Brentwood is probably known best for its nature appeal as there are many large parks, greenways and trails to explore. As there is not much of a true downtown core in Brentwood, the nature vibe still attracts many who enjoy and want to be surrounded by more of a peaceful, quiet environment.

Parks include:
Brentwood's largest Marcella Vivrette Smith Park and alongside others, such as; Concord Park, Crockett Park, Granny White Park, Maryland Way Park, Primm Park, Owl Creek Park, River Park, Tower Park, and Deerwood Arboretum and Nature Area.

Interesting enough Primm Park includes a deeply-rooted historical background, located on the site is the Boiling Spring Academy; a schoolhouse which was built in 1832 and restored in 2003. Primm Park is also home to the Fewkes Group Archaeological Site; listed on the National Register of Historical Places, making this a unique place to visit indeed.
View All Homes For Sale in Brentwood, TN >>>
Williamson County Neighboring Cities
Fairview, TN
This town within Williamson County offers a more suburb vibe and rural feel, where most residents own their own homes and a variety of both families as well as, young professionals flock to this area. It is home to one of the largest city parks in the state of Tennessee, Bowie Park, where people can gather or explore independently and enjoy nature's greatest gifts surrounding them.
Bowie Nature Park, donated by one woman; Dr. Evangeline Bowie who assisted in turning the area into a forest, much on her own offers activities and events throughout the year including; yoga classes, star parties and day camps, also offering a large playground for kids to enjoy.
For more information check out bowiepark.org.
Located just 25 minutes from the core of Williamson County, Fairview offers great schools as it too, is within the WCS district and provides many amenities for all ages.
As this is still a small area, Fairview continues to develop and grow throughout the years and is looking to base much of this off, Franklin TN.
View All Homes For Sale in Fairview, TN >>>
Williamson County Neighboring Cities
Thompson's Station TN
Established in 1798 and incorporated in 1990, this small town promotes healthy living to its community, by acquiring open park land more so than many other towns of similar size.
Parks include:
This quaint community of Williamson County is thriving and is a growing town, with highly regarded WCS schools and pastoral settings which are commonplace in Thompson's Station. Thus providing hillsides, wildlife, nature, country charm and open spaces, all while newly developed subdivisions include a neighborhood park. Out of these complexes lay three major subdivisions; Bridgemore Village, Fields of Canterbury and Tollgate Village.
The schools which serve Thompson's Station, within Williamson County include:
Independence High School for grades nine to twelve.
Heritage Elementary and Middle School for grades Kindergarten to eight.
Thompson's Station Elementary and Middle School for grade PreK to eight.
Bethesda Elementary School for grades Kindergarten to Fifth
The environment of, Thompson's Station is tranquil, and a convivial atmosphere that is individual from the modern urban lifestyles of most towns and cities today. However, is still very much close to heart, in all the world-renowned communities nearby and what they have to offer.
Bridging both the historical past and promising future, this small town continues to prosper through historical heritage, proximity to Nashville, Franklin and Brentwood. Yet also remains true to its southern country charm of Williamson County, Tennessee. Welcome home!