Moving To And Living In Thompson's Station, TN
Posted by Ben Laskey on Tuesday, February 23, 2021 at 12:55 PM
By Ben Laskey / February 23, 2021
Comment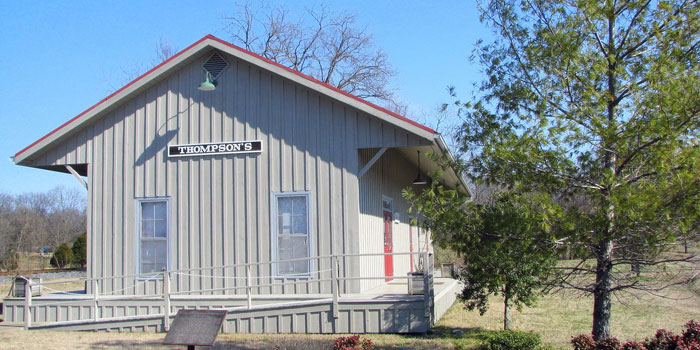 Thompson's Station is a charming town located in Williamson County, Tennessee. With a population of approximately 5,455, Thompson's Station is a small, rural community and is just twenty-five miles south of Nashville, so those looking to enjoy the amenities of the big city are not far from plenty of opportunities. The city of Franklin is found just north of Thompson's Station, and Spring Hill is directly south, so the residents of Thompson's Station have plenty of options when seeking additional shopping, eating, or entertainment opportunities.
With some of the safest neighborhoods and top schools in the area, Thompson's Station has been consistently ranked as not only one of the best places to live in Tennessee, but also one of the top places to raise a family in Tennessee. The town is the perfect rural community for those who wish to live among beautiful landscapes and enjoy the quiet atmosphere.
What is the history of Thompson's Station?
Thompson's Station is a Tennessee town with a rich history. The earliest settlers arrived between 1778 and 1812 as a multitude of Americans migrated in and around what is now known as Nashville, Tennessee. This wave brought plenty of people to the area who settled in Nashville, Franklin, Spring Hill, and, of course, Thompson's Station. In 1800, just twenty-four people resided in Thompson's Station, however, by 1866, that number would increase to approximately 200, and so began the expansion of this charming little town.
Early on, Thompson's Station was known as White House. In 1836, the name was changed to Littlebury. Not until 1856, when additional land was donated by Dr. Elijah Thompson, was the village renamed for the last time to its current title.
In August of 1855, the first of the trains began passing through Thompson's Station, which encouraged the village into becoming a popular shipping center. The many farmers that resided in the area took advantage of this new development, using the trains to load their livestock to take to market. The railroad became a staple in the town's economic survival right through to the 1940s. Once the highway system began to grow and the trucking transport became more and more available, the rail faded into the background and was forgotten. The train depot was torn down in the 1950s and the rail system was left in the past.
During the Civil War, Franklin and Nashville were home to Union troops stationed in middle Tennessee. Thompson's Station and Spring Hill were integral in providing food and contributing hay to the troops. However, in March of 1863, Thompson's Station, which was a no-man's-land, stood in the center of a large battle line stretching over the neighboring townships. The locals were caught in the middle of a strenuous and unyielding battle that continued on through to the summer of 1863.
The area was able to bring themselves back into order, and Thompson's Station once again got back on track; the farmlands were rebuilt and the economy stabilized. Thompson's Station was restored back to its former small-town glory.
The population continued to grow, not close to the grand cities surrounding the area, but still a steady, small-town growth. Thompson's Station was incorporated in 1990 and as of August 15, officially became The Town of Thompson's Station. By 2016, the population of this fantastic town had risen to 4,726 and now approximately 5,455 people reside in the delightful area.
What is Real Estate like in Thompson's Station?
Many of the homes for sale in Thompson's Station are newer builds and plenty of new developments are currently under construction. Approximately 83 percent of residents own their homes over renting, and a large portion of the real estate market is made up of single-family homes. The average cost of real estate in Thompson's Station is approximately $569,900.
Detached, single-family homes start around $538,383 for a standard four-bedroom, three-bathroom home, approximately 3,095 square feet. The larger single-family homes found among the listings cost an upwards of $1,062,830. These homes typically sit on larger-than-average-sized plots of lands, providing privacy and comfort to the homeowners.
Recently, Thompson's Station has added low-rise condominium buildings to accommodate the growing population and the desirable condo lifestyle. These condos start around $364,275 for a two-bedroom, 1,560-square foot home. The larger, four-bedroom, 2,191-square foot condo units sell for around $464,000.
Thompson's Station is also home to some charming townhomes. The average cost of a townhome in the area is about $379,000 for a three-bedroom, 2,095-square foot home.
Neighborhoods
The neighborhoods of Thompson's Station have been ranked among some of the best neighborhoods in the state. They're safe, friendly, and beautifully landscaped as well as located within close proximity to fantastic schools, tranquil parks, and an array of incredible amenities. The top three neighborhoods include Bridgemore Village, Fields of Canterbury, and Tollgate Village.
Bridgemore Village is a luxury, single-family development established in 2009. The homes available in this neighborhood feature large lots, landscaped front yards, spacious bedrooms, as well as a community pool. The average price of a home in Bridgemore Village is approximately $687,036 and the homes range in size from 1,200 to 5,504 square feet.
Fields of Canterbury is a subdivision located off of Critz Lane. The development is made up of a mixture of free-standing homes and townhomes. The homes for sale in Fields of Canterbury range between $299,000 and $631,000 and were built between 2008 and 2021. These upscale homes feature contemporary architecture and feature swimming pools, playgrounds, and walking trails in and around the neighborhood.
Tollgate Village was designed by Lennar Nashville, one of the top homebuilders in Tennessee. The spacious homes range between 2,100-3,000 square feet. The modern designs reflect the age of the development, which was established in 2006 and has been continued on through to 2021. The median cost of real estate in Tollgate Village is $474,990, but range in cost between $265,000 to $865,000.
Looking to move to Thompson's Station? A local expert realtor is ready to help find your dream home.
So Much To Do
Thompson's Station is filled with natural resources and a quiet atmosphere. Locals can get all of their staples within the town's borders; groceries, gas, medical aid, etc. Just outside of town, residents can find Kroger Marketplace, CVS, Walmart Supercenter, Lowes, and a variety of restaurants and shops.
For those looking to venture out and discover a selection of entertainment and activity, Thompson's Station residents can travel approximately twenty minutes north or south to find even more shopping, dining, and entertainment options. Franklin is to the north and Spring Hill is to the south, and both cities offer a variety of excellent amenities and nightlife options.
Explore The Outdoors
Nature enthusiasts will delight in the Thompson's Station outdoor excursions. There are several public parks and recreation areas within the town's limits available to the locals. These parks include:
Sarah Benson Park
Preservation Park
Nutro Dog Park
Heritage Park
These beautiful outdoor spaces offer quiet walking paths, plenty of flora and fauna to admire, picnic shelters, athletic fields, and wonderful playground equipment. Thompson's Station consists of more open parkland than the typical town of the same size.
Deer Run Retreat Center is a 100-acre property covered in mature forests. The Lodge at Deer Run and Cedar Point Cabins provide ample space for those who wish to spend a night or two enjoying the great outdoors. Groups are able to reserve the entire facility for private events and retreats. Outdoor activities include wiffle ball, beach volleyball, cornhole, horseshoes, and more. There are plenty of scenic hiking trails as well as fishing opportunities along the banks of Spring Valley Lake.
A Look At Education
Thompson's Station residents fall under the jurisdiction of Williamson County Schools. WCS is the sixth largest school district in the state of Tennessee and serves over 40,000 students in kindergarten through 12th grade at forty-eight different elementary, middle, and high schools. Over the last five years, the school board has grown rapidly, with 1,000 new students attending the various schools each year.
There are five schools within the Thompson's Station borders; one elementary school, two combination elementary and middle schools, and one high school.
Bethesda Elementary School is made up of approximately 540 students in kindergarten through 5th grade. The school has a student to teacher ratio of 11:1 and produces high test scores.
Thompson's Station Elementary and Middle School consists of 1,295 students in pre-kindergarten through 8th grade. The school produces above average test scores and is one of the largest elementary schools in the state.
Heritage Elementary and Middle School provides education to over 985 students in kindergarten through 8th grade. The school's student to teacher ratio is 14:1 and consists of above average test scores.
Independence High School is made up of over 1,849 students in the 9th-12th grades. The school offers a healthy list of various clubs and activities and proves to have one of the most active student-involvement in the state.
Arts & Culture
With Thompson's Station's rich history, there are several local landmarks that highlight past events within and around the town. Residents can educate themselves on the historical events that the town has been through at these public-access landmarks. Thopson's Station also has a small art scene, focused on music, visual, and performing arts.
Concordia Arts Academy is a wonderful facility that caters specifically to the promotion and encouragement of various art forms. Lessons are available in music, dance, visual arts, and theatre. The facility also hosts a fantastic homeschool education program as well as multiple summer programs for children. The Academy hosts multiple events throughout the year to showcase the talents of the students.
Homestead Manor is a historical landmark open to the public for exploration. The Battle of Thompson's Station took place on the property in 1809 and a description of the battle as well as the endeavors of the residents at the time are displayed throughout the manor. The home was a shelter for many women and children while the battle went on, keeping them safe throughout this trying time.
Shopping & Dining
While there are no large shopping centers found within the limits of Thompson's Station, those who reside there can easily access all their shopping needs and then some in the neighboring towns. Locals of the Thompson's Station community can find all their staple shopping necessities such as groceries and basic supplies, but for the more extravagant luxuries, a trip to Spring Hill or Franklin is probably necessary.
Dining opportunities are not overwhelming, but locals do have a few options for when they don't want to cook for themselves. The Circa Grill and H. Clark Distillery are the two popular dining hotspots in the town.
Circa Grill is located downtown and offers classic southern cuisine. The restaurant sits on over 100 acres of land including rolling hills and the familiar Thompson's Station red caboose. Residents of Franklin, Nashville, and Spring Hill will go out of their way to come and eat at this spectacular spot.
H. Clark Distillery is a unique establishment that is dedicated to hand-crafted spirits. Using only the finest ingredients, the Distillery produces high-quality spirits one small batch at a time, providing a unique drinking experience. The Distillery offers a variety of bourbon, whiskey, and gin, some of the very best in Tennessee.
If you're considering moving to the beautiful state of Tennessee but don't quite know where to start, look no further! Thompson's Station has it all for those who are looking for a quiet and relaxing lifestyle outside of the busy cities. Thompson's Station residents have the benefit of living among the tranquil forests and protected lands while also enjoying the convenience of urban life by way of the nearby cities including the vibrant Nashville. The incredible neighborhoods featuring modern home developments and welcoming locals allow for a smooth transition to newcomers. As one of the top five places to live in all of Tennessee, it's not hard to understand why this fabulous little town is the place to be for that perfect country life.