Moving To And Living In Murfreesboro, TN
Posted by Ben Laskey on Tuesday, March 30, 2021 at 11:59 AM
By Ben Laskey / March 30, 2021
Comment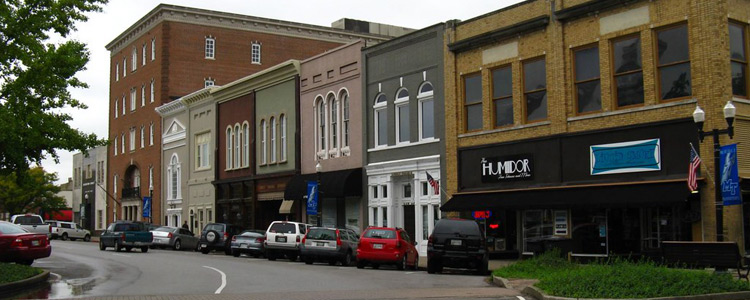 Home to the Middle Tennessee State University, Murfreesboro is a well-known college town and is actually the largest suburb of Nashville and the sixth-largest city in all of Tennessee. The large university campus found in the eastern region of the city means there is a large student population, however many young professionals and families choose to live in this thriving city as well. Murfreesboro is home to approximately 146,900 people of all ages, and is the county seat of Rutherford County. Located approximately thirty minutes south of Nashville, locals have an abundance of activity and excitement to enjoy both in and around the city, making Murfreesboro one of the top places to live in all of Tennessee.
View All Homes For Sale in Murfreesboro, TN >>>
History
Murfreesboro got its start back in 1811 when the Tennessee General Assembly gathered to designate the location for a new county seat in Rutherford County. Originally, the city was named Cannonsburgh to honor Newton Cannon, who represented the Assembly at the time. Later on in the year, the county seat was renamed Murfreesborough by the suggestion of William Lytle, to honor the Revolutionary War hero Colonel Hardy Murfree. In January of 1812, the name was changed for the last time, shortened to Murfreesboro, and the town was officially chartered at this time. The city actually served as Tennessee's state capital between 1818 and 1826, until it was replaced by Nashville.
During the Civil War, the Battle of Stones river, or the Battle of Murfreesboro, took place in December and January of 1862 and 1863. The Union Army of the Cumberland and the Confederate Army of Tennessee battled on the Murfreesboro grounds and this turned out to be the bloodiest battle of the war with a total of 23,515 casualties.
Murfreesboro went on to play major roles in the following wartimes. After a retreat from the Battle of Perryville, the Confederate army turned toward Murfreesboro to defend the city. War raged, with troops fighting to destroy the other's supply trains and intercept troop movements. The battle ended up being inconclusive and the Union eventually divided the territory from the Eastern and Western theaters. The Stones River National Battlefield has remained a historical site and depicts the various attacks that occurred on and around the grounds.
Despite all the wartime trauma to the land and city, Murfreesboro was known primarily as an agricultural community. The vast fields were perfect for crops and livestock, and the locals took full advantage. By 1853, however, several colleges and academies sprouted and the town's academic reputation began to grow; they even gained the nickname "The Athens of Tennessee." By the early 1900s, Murfreesboro's economy was beginning to recover and grow.
The year 1911 brought the designation of the middle Tennessee State Normal School, which was a two-year institution that was dedicated to training teachers. The school soon merged with the Tennessee College for Women and by 1925, the Normal School had expanded into a full, four-year college. The curriculum and proffered programs continued to expand and eventually the school transformed into Middle Tennessee State University, which is still standing strong today.
Murfreesboro has gained a substantial residential and commercial community within the last few decades. The population rapidly increased between 1990 and 2010 by approximately 123.9 percent. Since the 1990s, Murfreesboro has been identified as Tennessee's fastest-growing city and among the fastest-growing in the whole country. The city has also become much more diverse, as the University attracts many international students as well as takes in a number of refugee immigrants from Africa and Iraq.
Homes for Sale in Murfreesboro
Although Murfreesboro has a name as a successful college town, the city also has a large population of young professionals, families, and retirees. Murfreesboro can offer something for everyone, no matter what kind of lifestyle suits them best. The city offers plenty of incredible amenities, is beautifully maintained, and has a low crime rate. The average cost of real estate in Murfreesboro sits around $299,900, though the listings offer a diverse selection of homes from $54,000 to over $13 million.
The main type of home found among the Murfreesboro real estate is free-standing, single-family homes. These homes can be anywhere from humble two-bedroom homes in the more urban regions of the city that are under 1,000 square feet to expansive estates tucked away into the surrounding forests that consist of five or more bedrooms and make up over 14,000 square feet. These homes range in price from an affordable $139,999 to a more luxurious cost of $8,900,000.
Condos and townhomes are another popular housing option for potential residents of Murfreesboro. Modest condos can be found from anywhere between $130,000 to approximately $372,928. This option is great for single professionals who are just getting their start in real estate. Charming townhome neighborhoods can also be found in Murfreesboro and these typically consist of two or three bedrooms and are between 1,300-2,800 square feet in size. A townhouse in Murfreesboro usually costs between $204,900 and $379,900.
Murfreesboro also has an abundance of beautiful open land, with plenty of potential for open lots to purchase and design your custom, dream home. These lots range in size from one acre to over fourteen acres and can cost anywhere from $53,000 for a small space to over $13,579,395 for an expansive property.
Murfreesboro Neighborhoods
There are dozens of absolutely beautiful, family-friendly neighborhoods found within the borders of Murfreesboro. There is a neighborhood perfectly suited for all walks of life, from student accommodations to quiet family subdivisions to cater to all the diverse residents of Murfreesboro.
A popular neighborhood in the east section of Murfreesboro is Scotland Acres. This charming community features midsize single-family homes for an affordable price. The average cost for a home in this neighborhood is approximately $295,950. Scotland Acres was developed between 1958 and 1966, making it one of the older neighborhoods in Murfreesboro.
To the west is the Deerfield neighborhood. Another community filled with moderate single-family homes, Deerfield has a mix of older and more modern developments. The neighborhood was started in the early 1980s and continued to develop through the 2000s. The average cost of a home for sale in Deerfield is $265,000.
Barfield Commons is a well-known neighborhood found in southern Murfreesboro. The community was built between 2004 and 2006 and features two- to three-bedroom attached and detached, single-family homes. With a mix of condos, townhomes, and free-standing homes, Barfield Commons is the perfect place for just about any Murfreesboro resident looking to stay around the $180,000 price range.
In the northern region of Murfreesboro sits Breckenridge. This luxurious neighborhood features expansive homes settled onto larger properties than the more suburban neighborhoods found in the city. The single-family homes found in this area of Murfreesboro typically cost around $550,000 and consist of spacious, open-layout designs.
What To Do
The city of Murfreesboro is home to a number of exceptional events and festivals throughout the year, every year. Music-oriented events, such as the Main Street Jazzfest, bring in a crowd of music enthusiasts and are presented by the university's School of Music and the Main Street Association. Every May, jazz-lovers come to enjoy local and national artists performing and share their talents on the various stages set up through the city. In July, an annual event called Uncle Dave Macon Days hosts national competitions focusing on old-time music and a variety of dancing styles.
Nothing brings a city together like cheering on the local sports teams. The university provides the opportunity for various sporting events for all to enjoy. Locals will gather to cheer on their favorite team, whether it's a football game, soccer game, or tennis match, there is always something exciting happening on the college grounds.
Families can enjoy an afternoon at the Discovery Center. This interactive exhibit features themed events and hands-on experiences that children will enjoy and talk about for days. This educational opportunity is great for children of all ages and features plenty of different exhibits from learning about the five senses with interactive displays to the Creation Station, which is dedicated to fostering a love of art, to the Farmers Market that teaches nutrition in a fun and interactive way, there is endless hours of enjoyment at this fantastic center.
Getting Outside
Murfreesboro is home to over forty miles of beautiful, scenic walking and hiking trails that wind through the city and surrounding Rutherford County. These trails are kept in immaculate condition and are the perfect way for locals to stay healthy and happy while focusing on an active level that's right for them.
Old Fort Park is a lovely, fifty-acre park that hosts not only baseball fields and tennis courts, but a full eighteen-hole championship golf course. Visitors to these lush, green grounds can also enjoy the children's playground, various picnic shelters, and the bike trail that winds throughout the park.
Barfield Crescent Park is a beautiful 430-acre park that features eight baseball fields and over seven miles of well-maintained trails for biking, running, or jogging. There are also ten picnic shelters on the grounds, perfect for hosting group gatherings and events. Barfield is also home to an eighteen-hole disc golf course for locals to enjoy.
Murfreesboro Greenway System is set up as twelve miles of paved walking paths and eleven trail heads. The city takes great pride in the amount of greenways available to locals and visitors and is dedicated to maintaining these trails and making them easily accessible to all. The city has plans to extend the system over the next twenty-five years, adding 173 miles of additional greenways, bikeways, and blueways.
Schools of Murfreesboro
Murfreesboro residents who are within the elementary school age, between prekindergarten and sixth grade, fall under the jurisdiction of the Murfreesboro City Schools. MCS focuses strictly on this age group and consists of twelve schools within the city limits, providing education to approximately 8,800 students.
The secondary school age students of Murfreesboro fall under the jurisdiction of the Rutherford County Schools. RCS consists of forty-seven schools dedicated to students in the seventh through twelfth grades and educates approximately 44,000 students all over the county.
Murfreesboro is home to a total of thirty-two public schools, but those wishing for alternative education have plenty of options. There are ten private and charter schools within the Murfreesboro boundaries, including Christian, Catholic, and Private Academies.
Arts and Culture
Murfreesboro is home to a fantastic art scene. Between the artistic programs at the university and the variety of fabulous art galleries throughout the city, there's no shortage of exceptional artwork to be enjoyed. The Murfreesboro Center for the Arts is a hub for visual and performing art exhibits. Visitors can enjoy everything from art exhibits, concerts, dances, magic shows, or dramatic arts at this fantastic center.
Cannonsburgh Village is a fantastic reproduction of a pioneer village, allowing visitors to travel back to the 1830s to get an idea of what life was like for those early settlers. The grounds consist of a grist mill, school house, doctor's office, and a wedding chapel to explore. The Village also happens to be home to the World's Largest Cedar Bucket.
There are several fantastic museums found within Murfreesboro. From children's museums, such as The Discovery Center, to historic museums, such as the Stones River National Battlefield, are available to feed the many interests of the residents of Murfreesboro. Many schools take full advantage of the plentiful exhibits found in Murfreesboro, partaking in guided tours through the educational and historical sites of the city.
Shops and Eateries
There are two main shopping centers found within Murfreesboro. The Stones River Mall is a standard, enclosed mall that features familiar favorites such as Forever 21, Aeropostale, Hot Topic, and more. The mall also includes a selection of delectable
dining establishments for hungry shoppers to indulge in.
The Avenue is a more unconventional shopping outlet, an open-air mall. Shoppers can browse the various stores, such as American Eagle, Hollister, Best Buy, and Dick's Sporting Goods, along the beautiful, open plaza. Several charming eateries can be found along the street as well, such as Mimi's Cafe and Romano's Macaroni Grill.
Murfreesboro's Main Street is filled with charming boutique shops and eclectic eateries. The restaurants and galleries found along the sprawling streets offer great variety to the locals and visitors of this historic area of the city. Shoppers can find anything from antiques to fashionable clothes to unique treasures.
Murfreesboro, Tennessee, is a trendy, vibrant community that welcomes people of all walks of life. The university attracts a young crowd, the quiet surroundings embrace a more rural setting, and the busy downtown streets offer a more urban atmosphere. With so much diversity and variety of amenities, anybody would be lucky to call this beautiful city home.